About The Artist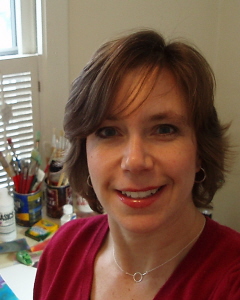 I'm Karen Koch, an artist who uses bold colors applied in transparent layers, giving my paintings a bright, cheerful feel.
My inspiration comes from simple things around me: the change of seasons, the color of the sky today, or the flowers blooming in my yard. I delight in them, turning the images into small-scale abstracts in acrylic and watercolor.
Background
I studied studio art and majored in drawing at Denison University. After graduating, I worked at art galleries and continued painting for several years. Eventually, I took a corporate job and painted less and less as the job kept me busier and busier. Then, for more than a decade, I did not paint at all.
I started painting again in 2005. Since then, my focus has been more on painting than drawing, my paintings are smaller (less than 24 x 30 inches), and my colors are brighter. I still build my images using many layers of color because it adds depth and richness to the image.
Art Cards, Editions, Originals (ACEOs)
When restarted painting, I spent time visiting art forums on the web to reconnect with art and artists. Artists around the world were working on something that was new to me: Artist Trading Cards (ATCs) and Art Cards, Editions, Originals (ACEOs). The cards are miniature works of art: exactly 2.5 x 3.5 inches, no more, no less. They can be made with any medium in any style.
The tiny size can be challenging, but it can also be a great format to get my imagination running. I often use them to try out ideas for larger paintings. Best of all, my customers enjoy collecting them.
My Studio
My studio is at 178 1/2 N. Main Street in Hudson, Ohio.  To see pics of my tiny former studio at home, visit photos of my studio.
My mascot keeps a close eye on me, making sure I stay hard at work. See photos of my studio mascot.
Shows and Exhibits, 2016
2016 is a full and busy year. To see my work in person, stop out at any of these events: 2016 Shows and Exhibits.