Art Every Day Month, Day 1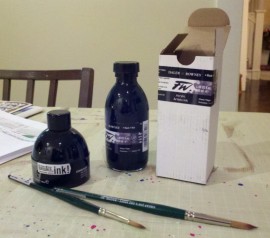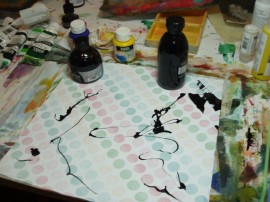 Today is Day 1 of Art Every Day Month, a challenge run by Leah Piken Kolidas over at Creative Every Day.
I've been all excited about this challenge, and was anxious to get home and do some ART tonight.
After a very l-o-o-o-n-g day, I arrived home at 9PM, exhausted and a bit deflated. Wasn't sure what smidge of creativity I might have left.
As I pulled in the drive, I could tell that a package was sitting on my doorstep! Hurray! The day might be saved after all.
The package contained some new art supplies – two different kinds of acrylic ink – that I'd ordered last week.
Well, I don't know about you, but I can't just let new art supplies SIT there without giving them a try.
So I popped open both bottles and splashed them around on some paper. I'm typing this post to kill time while they dry.
When they're dry, I'll give them a test to see how they stand up to water and other acrylic paints – do they smear? Do they run? Are they truly opaque? How long do they take to dry?
Tap, tap, tap. << — that's me anxiously waiting. Sigh.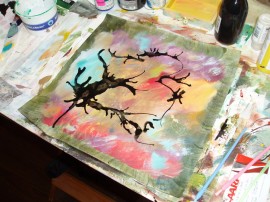 Oh boy, oh boy, oh boy! I believe we have a couple of winners!
This is gonna be a fun month!