Cheeks and Noses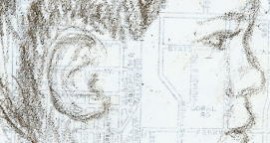 This sketchbook project has made me realize that I need practice drawing people in general, but cheeks and noses specifically.
The tip of the nose is a personal feature. If it's just a bit off, the sketch is all wrong.
I struggled with cheeks, that expanse of space between the profile and the ear. Get the cheeks wrong and the proportions for the whole face are off.
Must go practice…


All content © 2018 by Life Needs Art by Karen Koch
178 1/2 N. Main St., Hudson, OH 44236
You're welcome to use the images on this site, under certain conditions. Please view the Terms of Use.
Website created by Crystal Pirri using the On Assignment theme.