Day 20 – Scattered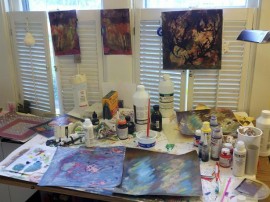 Sigh. It's just one of those days. I have lots of time for art but can't focus on any one thing.
I've dabbed paint on about 6 unfinished paintings, started a set of new prototypes for Artomat, scribbled in my Sketchbook Project journal, and cut up some new bookmarks.
All that sounds good, but I've been out of synch with all of it. My colors aren't mixing right, I'm choosing the wrong brushes, and I've knocked over a bottle of ink.
Phooey.
I'd had such high hopes for accomplishing something – something – today. Diving in deep and getting it done.
Well, I guess that's one benefit of Art Every Day Month: even if today doesn't work out as planned, there's always tomorrow. I won't leave all this unfinished stuff stewing around for a week; the challenge will push me back in here.
I'm going to cut my losses for today and go clean the cat box. Or put up storm windows. And hope I don't drop one.