Day 28 – Done or Not Done?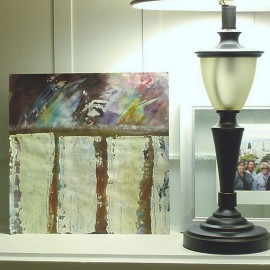 I've been working on this painting for the past few days, and I really like how it's progressing.
But is it finished?
Sometimes I look at it and think, "Yep, that's enough. It doesn't need a thing."
Then a bit later I think, "Well, what about some detail in the lower portion? Not much; just some small lines."
Such a dilemma.Does it need more or not?
I'm about 70% no and 30% yes. Maybe I'll put it away and look at it with fresh eyes later.