Day 3 – Tying up Loose Ends and Recharging Batteries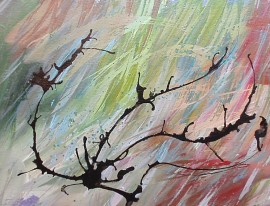 Ah, much better. Got home while it was still daylight and had time to work in my studio.
The first painting is on paper, 7×9 inches.
The second is on canvas, 8×10 inches.
I'd started both of these last weekend, so I just finished them up tonight.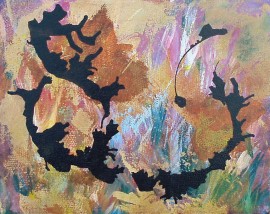 The first is acrylic paint with Liquitex black acrylic ink. Up till now, I'd been using India ink so this is my first experiment with acrylic ink and I like it. This brand behaves very much like India ink – it can be thick and opaque, but also gets thin enough to  allow the painting to show through sometimes. Very fluid – moves easily across the paper. Nice.
The second is acrylic paint on canvas with Daler Rowney acrylic ink. This behaves nicely, too. On this painting, the ink seemed to level itself so that it's a consistent layer. No thick or thin spots. And it's a dense black.
I like them both. Now I have options.
And remembered to charge the camera battery. Now that it is charged, mine is empty. I'm tired, and signing off for tonight.
Till tomorrow…