Day 30 – And, That's a Wrap!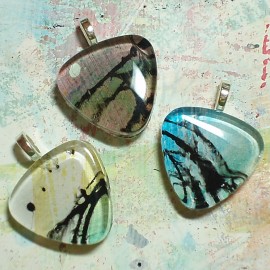 Here we are on the last day of November. Goodness, how time flies!
November has been Art Every Day Month. And what a month it's been!
I have worked on art nearly every day. Not that I've finished something every day, but I have worked on something.
Some days have gone well and the paint flowed effortlessly. Others, well, not so much.
Nor have I blogged every day. I occasionally made the choice to paint (or do something else) and not blog. I felt a fleeting twinge of guilt about that. But that's ok.
I set myself a goal to work larger this month, so I've started a series of 12×12 inch paintings on paper. Yes, that's inches. Most of my work is smaller than that, so a square foot feels ginormous.
I've made a whole series of hand-painted necklaces – paintings sealed behind glass. Personally, I'm darn tickled about them.
I've bought some new supplies and tried some new media and colors, ones I've not used before. Stretching is healthy.
I've started – yes, STARTED – my sketchbook for the Sketchbook Project. And it's only November! The past couple of years, I've scrambled around at the deadline. Personally, I'm super pleased about having started early.
And, I've begun working on some new paintings for Artomat.
The best part of Art Every Day Month is not so much the art that comes out of it, but the habit that it builds. Other months, I paint a lot, but I also give in to the feelings of, "Eh, I'm too tired/cranky/uninspired/whatever, so I won't paint today."
Art Every Day Month gives me that extra nudge to override those feelings, turn on the studio lights, and crack open a tube of paint.
The results of a consistent habit are priceless.