Day 5 – New Supplies and Lots of Painting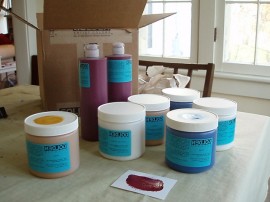 So I did some painting this morning and worked on some partially finished paintings. Several of them are now almost done or completely done. Photos to follow soon.
Then I ran out to do errands for the afternoon, only to return home and find a big box of supplies on my doorstep!
Oh boy oh boy oh boy! Nothing better than new paint.
The box had jars of blue, yellow, clear gel, and this scrumptious violet.
Well, I was tired and looking forward to a quiet evening with a movie and popcorn, but I can't just let those jars sit unopened. Maybe I'll try play for just a little bit…