Day 6 – Paint 'n Frame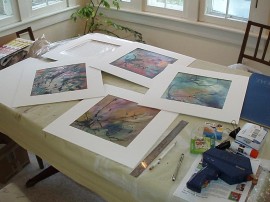 Another productive day. I spent most of the morning working on paintings. Several are in progress and soon to be finished.
This afternoon, I worked on putting some of the completed ones into their mats. They look so nice that way!
I picked up a dozen mats yesterday, so I have much work to do!
I also tried out my new paints on a 16×20 canvas. These are colors I haven't bought before, so it was fun fun fun to play! The colors are wonderful. The violet is gorgeous but a bit strong, so I'm learning to use it sparingly.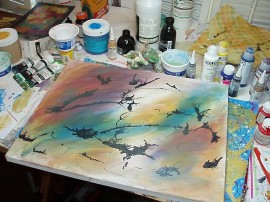 All in all, a darn good day.
Now I'm off to my brother's house for homemade chili and cornbread. Yum!