Discover Hudson 2016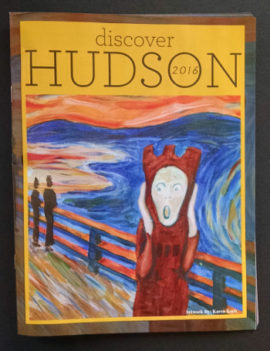 Imagine my surprise when I opened my Hudson Hub Times recently and found the Discover Hudson 2016 magazine inside – with my artwork on the cover!
The magazine has a well-written and beautifully designed article titled "Art On The Green" about the artists in town. They interviewed Mary Kay Haneline, Kathy Johnson (of Hudson Fine Art & Framing), Stacy Pinover (of Creative Fingers), Hudson Society of Artists, along with me, Shannon, and Dana. Check it out on page 26.
The image used on the cover is my painting of the Hudson Clock Tower in the style of "The Scream", by Edvard Munch. It's part of my tongue-in-cheek series that depicts the clock tower in the style of famous artists, a lighthearted take on our beloved icon.
Read the article below or at https://issuu.com/dixcom/docs/discover_hudson_2016_export