Liberate Your Art Postcard Swap, 2012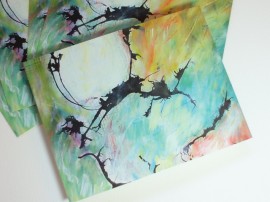 Ah, time for the postcard swap again! I've been looking forward to this for a while.
Kat Sloma, over at Kat Eye View, is hosting the swap as she did last year.
The concept is simple: print up postcards with images of your art. Send 5 cards and stamps to her, and she sends back 5 postcards from other artists.
Let's see: my art gets in the hands of other folks, and I get theirs in return? That just makes me happy.
I love finding colorful surprises in my mailbox. Doesn't everyone? So, I just had a thought. What if I liberated more postcards, such as the ones pictured above. Do you want one? I'd be glad to send one to you.
Here's what you have to do:
Send an email with your postal mailing address to me at karen @ lifeneedsart.com

The first 75 people who contact me will get cards. That's it! I love hearing from people, and look forward to popping these cards in the mail.
If you're curious, take a look at the cards I received last year: http://www.lifeneedsart.com/blog/liberate-your-art-postcard-swap-wrapup/
To see other artists participating in this year's swap, click the button below: