Painting Parties!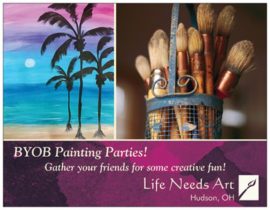 Did you know that I do painting parties? You know, those paint and wine kind of parties? Yep. Have you tried one? They are an absolute blast!
I walk you through a painting, step-by-step and make it easy for you. Even if you think, "I can't draw a straight line!" that's ok. Straight lines are boring! Besides, I show you how to do each brushstroke and help you at every step. Even people who haven't picked up a brush since grade school are amazed at what they can do. Perfect for beginners!
Cost is $35 per person. I provide paint, canvas, brushes, aprons, and easels. You provide refreshments.
We can have paint parties at my studio, or I can come to your house or a restaurant. Painting parties are great for girls night out, birthday parties, bachelorette parties, team building events with your work group (yes, really!), church groups, and family outings.
I have plenty of sample projects, including lots of holiday ones. See samples below or on my Facebook page here: https://www.facebook.com/pg/lifeneedsart/photos/?tab=album&album_id=10153742312468256
Or, let me custom design a picture just for your group!
Call today to schedule your party! 
216-789-2751
178 1/2 N. Main Street, Hudson, OH 44236
Contact me