Sketchbook Project 2011 is Finished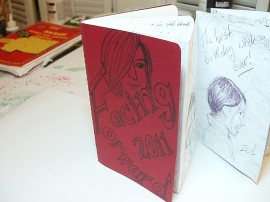 My sketchbook is finished! I've kept you all in suspense long enough, so the full story is below. I will continue to post individual sketches over the next few days so that each person gets to see a close up of their own.
My thanks – and my apologies – to everyone who helped. I'm grateful for your participation. Some of these sketches look like you. Some are way off. Forgive my crummy drawing skills! I promise to practice.
See the slideshow below for all photos.
In 2009, I signed up for the Sketchbook Project at ArtHouse Co-op and was all excited for my book to arrive. It sounded like fun and I couldn't wait to get started.
When the book arrived, it came with a theme: "Forgetting to Call You Back".
Whew, I struggled with taht theme. I looked at the book, carried it around with me, doodled in it off and on. Finally after stewing on the theme, I came up with a story about a former friend (Little Robin) and how she would forget to return phone calls. Hurray! Done.
So this year, I wanted to do another sketchbook but wanted to make it easier on myself. When I saw the good folks at Hrt House were letting us choose our theme, well, halleluia! I like that idea. Sign me up.
I carefully considered the options and made my selection: "Facing Forward". How easy is that? I can sketch anything in front of me. That's facing forward, right? I can't sketch what's behind me. Contrary to what I tell my niece and nephews, I don't have eyes in the back of my head.
My book arrived. And somehow the thought of just sketching any old thing in front of me didn't get my imagination going.
So, again, I looked at the book. Carried it around. Doodled a little. Waited for the lightning bolt of creativity.
Not so much.
Then I started playing with the theme.
Facing forward. Faces. I could do faces all looking in the same direction. Ok, but I don't do faces.
The idea kept pestering me. Ok, so if I do faces, that's nice but what ties them together?
Let's see. If you're facing forward, you're looking forward. Going forward. Looking forward to what? Going forward where?
What if I did sketches of people all looking forward and asked them what they were looking forward to?
Hm. Getting interesting.
Now the book. I don't like the flimsy paper in it so I'd have to replace it. EAsy enough. I have plenty of good paper.
But if everyone in the book is looking forward or going forward, they need a plan to tell them how to get there. Or a map. Wouldn't they all need a map?
What if I took the pages out of the book and replaced them with map pages?
Oh, this is getting good.
How do I make it look like they're going somewhere? I could make one long page kind of like a fold out triptyk thing. The faces can go all the way down the page and then back around the other side.
A start of a new year, a group of people, what they're looking forward to, and a map to get them there. A map you have to unfold and refold (and it never folds up right).
This, I can work with.
I tried using an old AAA map, the kind that unfolds to the size of a bedsheet and can never be refolded to its original size. Got lots of them. Unfortunately, the panels were too narrow and too tall – they didn't fit the format of the book.
So  found a friend with an old "red book" map from the early 90s.
If you're too young to remember red book maps, think Google maps in print – each panel is 8.5 x 11 inches and shows one section of an area. All the pages are bound into a book with a red cover. (Hence the name.) They don't say "Red Book" anywhere; it's just a nickname.
The maps are black and white so they're ok for drawing on. But the printing was too dark for my light sketches.
I tried coating the pages with gesso. Too rough.
I tried titanium white. Too rubbery.
Half gesso and half matte medium? Too transparent.
Two coats of that? No good.
Half gesso and half colored paint (sepia, blue, etc.). Nope.
Half gesso and half titanium white? Ah, success!
I tried several drawing materials – conte crayons, wax crayons, graphite pencils – but liked Derwent Coloursoft pencils the best. I chose some nice dark browns, grays, black, even blackberry.
Now for the faces.
Naturally, I roped family and friends into helping. I also put a call out on twitter and Facebook and found some willing volunteers. Each person sent me a photo of them in profile plus what they're looking forward to.
I don't normally work from photos, but these folks are scattered all around the country so photos were the only practical choice.
I haven't drawn faces since college – which was several decades ago. It took a few tries to get the hang of it and each face had its unique challenges.
I did each sketch on a separate page. When it came time to put them together, I tried different orders: families, siblings, friends, etc. It felt funny. Someone would be upset at being first and somebody else would surely be upset at being last.
So I shuffled them all up, tossed them in the air, and let them fall. The order they landed in is the order they appear in the book. Except for me – I put myself first since I figured no one else would want to go first.
So please enjoy. And be sure to take a look at last year's book: Forgetting to Call You Back.
The book will go in the mail in the morning to ArtHouse. They will take all the books to about a half-dozen galleries around the country this year.