Sketchbook Project – Lisa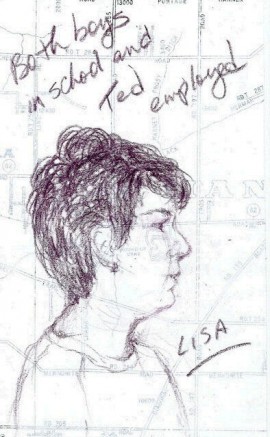 It's funny how different these pages look when they're scanned and reduced in size and viewed on a computer monitor.
This is my sister Lisa. The sketch looks sort of like her, but something isn't quite right. Sorry, sis, I'll try better next time.
I haven't drawn faces in several decades, so this project is really challenging.
As with Ollie's sketch, this one is done with pencil on a page taken from an old redbook map (trimmed to 8 x 4.75 inches).
This drawing is part of my Sketchbook Project. I'm not quite ready to spill the beans but will soon. Stay tuned.