Studio Mascot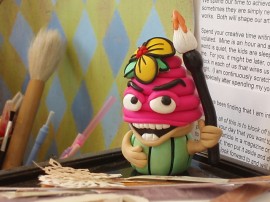 In honor of one of my words of the year, I've adopted a studio mascot!
This clever little character is sitting in my studio, keeping a close eye on me. Better not slack off or try to get away with anything – I might get smacked with that brush!
This charming little cupcake is the creation of Karly at Bittersweetz, who makes fantastic characters out of polymer clay. The personalities in her  shop are irresistible.
Browse around her Etsy shop here: http://www.etsy.com/shop/bittersweetz and her Facebook  page: http://www.facebook.com/#!/pages/Bitter-Sweetz/123038717753621
When I asked Karly to make me a mascot, I gave her some basic ideas (pink frosting), but she picked up ideas from the artwork in my Etsy shop. Here the photo of my mascot next to my Golden Flowers ACEO. Look familiar? How clever is that!
The other photo shows my mascot perched among my supplies, looking right at home and ready to get to work.