An Exploration of Portals, April 1-May 28, 2014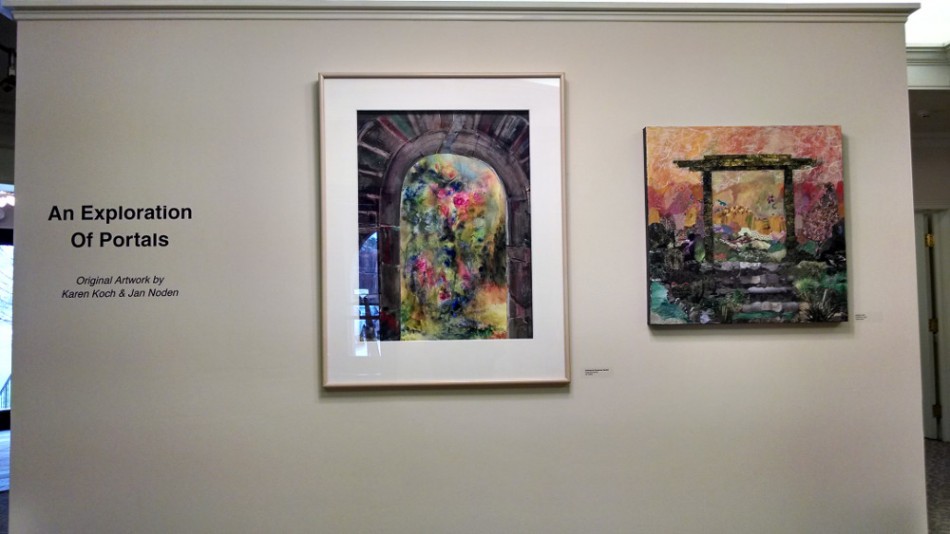 An Exploration of Portals
Original artwork by Jan Noden and Karen Koch
April 1 – May 28, 2014
On display at The Margaret Clark Morgan Foundation
10 W. Streetsboro St., Hudson, OH 44236
Meet-the-Artists Reception: Thursday, April 10, 4:00 – 7:00 p.m.
Depending on the definition, portals can be a door, a gateway, or an entrance, often one that is large and imposing. Portals are also symbols of entry points marking the passage from one place to another.
When Jan and I met in August 2013 to begin collaborating on this exhibit, we started by talking about our normal sources of inspiration, especially nature and memories.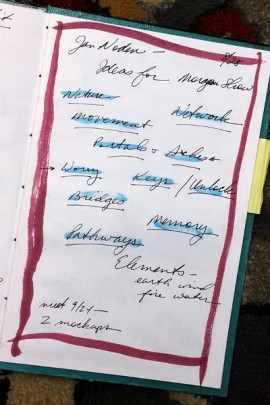 We talked about memories as being transitions between past and present and important they were to our work. We then talked about other types of transitions – windows, arches, bridges – which are gateways between one place and another.
The idea of gateways, transitions, and portals was fascinating, so we settled on using them as the theme for our show. You can see my notes from our initial meeting on the right.
The theme was a bit of a stretch for us, and we felt that we needed to create all new artwork for this show.
We met every few months to see each other's work and how we were interpreting the theme.
The exhibit includes 25 artworks, paintings, collages, and sketches.
You will see arches and bridges, windows and gates. Some look real, some look abstract. Some are based on specific places; others are imaginary.
It's been quite the journey navigating all these portals. I hope you will have a chance to stop on out to see the show.