Art Break Day 2015

Friday, September 4th is Art Break Day, a day when everyone is encouraged to sit down for a few minutes and make art.
Yes, everyone includes YOU! You will be pleasantly surprised at how good you feel after only a few minutes of drawing or painting. Stop by my studio that day: I'll have lots of art supplies to use and some projects to give you inspiration. If you can't make it to Hudson that day, do something artsy for 5 minutes. Keep it simple – grab a couple of markers and doodle, or dig out that old set of watercolors and splash some paint around.
I participated in Art Break Day last year and thoroughly enjoyed it. Dozens of visitors sat down and dabbled with paper, pens, glue, and markers. Some needed a bit of coaxing; others jumped right in.  Lots of art was made!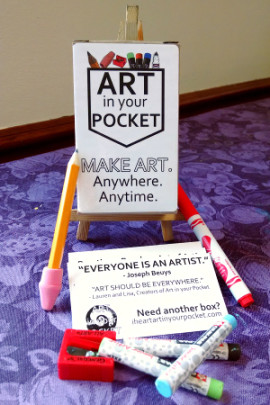 This year, I am fortunate enough to be able to give away "Art In Your Pocket" boxes, a pocket-sized assortment of art supplies. All you have to do is stop by and pick one up. No charge, thanks to the generosity of the Art Break Day organizers.
Art Break Day is a global event: almost 40 places around the world will be bringing communities together to make art all on the same day! That's remarkable, isn't it? To find out about the good people who organize Art Break Day each year and where the other locations are, visit http://artismoving.org/artbreakday/eventinfo/ or visit them on Facebook: http://www.facebook.com/ARTbreakday.
I'm looking forward to it. See you on the 4th!