Cleveland Handmade Market, Dec. 7, 2013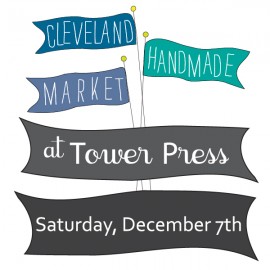 Tis the season for the Cleveland Handmade Market at Tower Press.
This was my favorite show from last year and I've been looking forward to it all year: really interesting work that you don't see elsewhere, good crowds, absolutely cool building, and the Artefino cafe on site.
If you haven't been in the Tower Press building yet, you have to see it: live/work lofts, artists studios, great architecture and history. It's worth seeing.
And, in case you need more coaxing, the ArtCraft building down the street is also having a holiday art show the same day. It's just bound to be an art-filled day!
Come on down, shop, have lunch, and enjoy some holiday spirit.
Cleveland Handmade Market at Tower Press
Saturday, December 7
10am – 6pm
1900 Superior Ave
Cleveland, Ohio 44144
Get the latest details.
Join the Facebook Event.