Holiday Art Hop on December 9th
The last art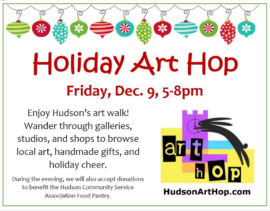 walk of 2016 is on Friday, December 9th, 5-8pm. My studio will be open (at Uncommon Art), along with 13 other locations. We'll have plenty of art, music, and good cheer to put you in the holiday spirit! For details and a map, visit www.hudsonarthop.com.
At Uncommon Art, we'll have our "Tiny Homes For The Holidays" show going on – a collection of tiny wonky whimsical houses made by 8 mixed media artists from Northeast Ohio. They're adorable (and the houses are cute, too)!
We  have also rearranged the studios, and each of us have been busy creating new art. Definitely worth the trip up the stairs to check out the new stuff.
See you on Friday!