Holiday Artists' Market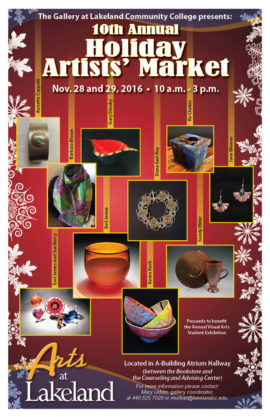 For my "northern" friends 🙂 check out the Holiday Artists Market at Lakeland Community College on November 28 and 29.
About 2 dozen of us artists will be there with jewelry, clay, wearables, accessories, mixed media, textile design, wall art, and other gifty goodies.
It's held at Lakeland Community College in the "A" building Atrium hallway between the Bookstore and Counseling and Advising Center.
Hours: November 28 & 29: 10 AM – 3 PM
Proceeds from the Artists' Market will be used to benefit Lakeland's Annual Visual Arts Student Exhibition Awards Fund.
Lakeland Community College is located at
7700 Clocktower Drive in Kirtland, Ohio 44094-5198.
For more info visit http://www.lakelandcc.edu/gallery or https://www.facebook.com/events/1684472978529686/