Holiday Hop on December 8th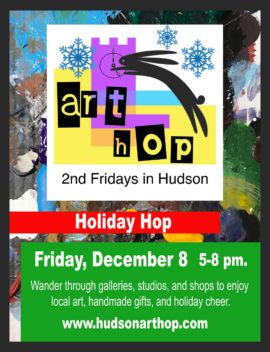 Our final Art Hop of 2017 will be the Holiday Hop on December 8th, from 5-8pm. Ten locations in Hudson will have guest artists and refreshments – it will be a fun and festive evening!
Our guest at Uncommon ART will be Linda Ackerman of Paper Rose Design – Altered Couture. She will be bringing lots of new clothing and mittens for a mini trunk show of her work.
In addition, we'll have art doll ornaments by Julie Waring, wine bottle candles by Theresa Head, and items by several other guest artists.
For the holidays, I have new gift items of my own: Painting Parties In A Box (admission for 4 to a painting party, that saves a bit off the regular price and comes with a cute box and mini painting), Hudson Clock Tower calendars, handmade ornaments. Plus lots of new scarves and journals. Great gift ideas!
For more info about the Holiday Hop, join the event on Facebook (http://www.facebook.com/events/654651764741496/) or visit www.hudsonarthop.com