Kent's Art In The Park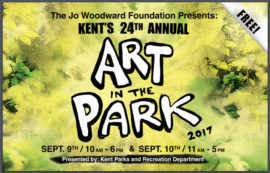 Kent's Annual Art In The Park Festival is this weekend September 9-10. I'll be showing my collage and mixed media art along with some new pieces that I've been working on.
Held in Kent's Fred Fuller Park on Middlebury Rd., the location is beautiful and shaded. The festival has plenty of artists, food, great music, children's art area, a youth artist tent, Sylvia Coogan Scholarship silent auction, free admission, and free parking.
The weather promised to be cool and beautiful all weekend, so come on out and enjoy the festival.
2017 Festival Dates and Times
Sat., Sept 9, 10:00 a.m. – 6:00 p.m.
Sun., Sept 10, 11:00 a.m. – 5:00 p.m.
For more information about the show, visit http://www.kentparksandrec.com/annual-events/art-in-the-park