Ohio Collage Society, Member Show, March 2014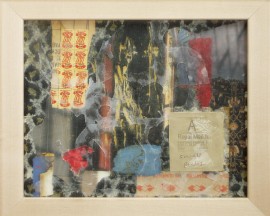 The Ohio Collage Society is hosting its 8th annual exhibit, which features about 40 artworks by members of the society.
These collage shows are always really interesting shows with a variety of work ranging from realistic to abstract, large and small. Because collages allow for addition of found objects and recycled/repurposed materials, you never quite know what you'll find in these artworks. The textures and surfaces are fascinating.
February 28 – March 27, 2014
Brecksville Center for the Arts
8997 Highland Avenue
Brecksville, Ohio
Opening Reception:  Friday, February 28th 6:00 – 8:00.
My entries are "Small Packets" (above) and "Garden Shrine" (right).
For more information about the Ohio Collage Society, visit http://shirleyendesaxe.typepad.com/ohio_collage_society_news/