Regional Juried Show at Group Ten Gallery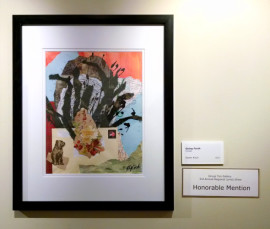 Group Ten Gallery in Kent, Ohio is currently hosting their 3rd annual Regional Juried Show. With almost 50 artworks, the show is a really nice representation of art happening in this area.
I was pleased to learn that both of my entries were accepted, and that "Going Forth" won Honorable Mention!
My entries are both new collages completed this year.
The show runs April 1 – May 7. Gallery hours are Thursday through Saturday from 12-5pm. Please call 330-678-7890 for more information.
Group Ten Gallery
138 Burbick Way, Kent, Ohio 44240
330-678-7890
www.grouptengallery.com

"Going Forth"
14 x 11 inches, collage with map, envelope, vintage papers, acrylic paint.

"The Dunes"
14 x 11 inches, collage with acrylic paint, altered papers, leaves, flower petals, and grasses.