Sketching Locations for January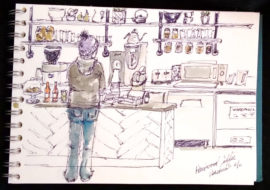 Come join us for sketching! We meet Friday mornings from 9:00-11:00ish, but feel free to come and go as you need to.
Bring your own materials (sketchbook, paper, pencil, pen, watercolor kit). We usually begin with a few quick sketches as a group to get warmed up, then work independently on views that interest us. There's no fee and minimal instruction.
Happy Hour Sketching will be Wednesday, Jan. 31, at 4PM at
In case of bad weather, check my Facebook page (http://www.facebook.com/lifeneedsart/) or call/text me (216 789 2751) to be sure we haven't changed plans.