Sketching Locations for September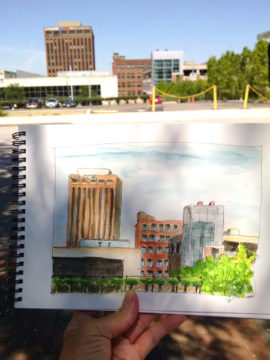 Hi folks, here's the plan for sketching for the next few weeks. Hope you can join us for one or all!
Sept. 8 at 10AM in Kent. We'll sketch the old Pufferbelly restaurant (now Treno Restaurant) and street views.
152 Franklin Ave, Kent, OH 44240
Sept. 15 at 9am at Gorge Metro Park

http://www.summitmetroparks.org/gorge-metro-park.aspx

(I haven't been here but have heard it's pretty)
Sept. 22 at 9am at Szalay's Farm
4563 Riverview Rd, Peninsula, OH 44264
Sept. 29 at 9am at Lock 3 in Akron
200 S Main St, Akron, OH 44308
Oct. 4 at 4PM Happy hour at Burntwood Tavern in Cuyahoga Falls
2291 Riverfront Pkwy, Cuyahoga Falls, OH 44221
We usually sketch for about 2 hours. You don't have to be there for the whole time – come when you can, leave when you need to.
Bring your sketchbook and pen/pencil. When we're outside, bring a small folding chair or stool.
We've lucked out with the weather the past few Fridays, but if it looks rainy or too cold, call or text me so that we can coordinate a dry location (216-789-2751).
When the weather becomes too cool to sketch outdoors, we'll move to coffee shops, libraries, and other indoor locations.