Threads Of The Past, An Exhibit Of Art And History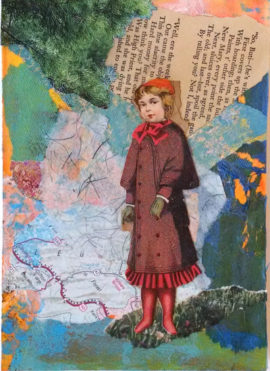 Beginning March 10th, our studios at Uncommon Art will host a new exhibit called "Threads Of The Past: artwork with an eye to history".
This show is a collaborative exhibit between me, Dana, and Shannon. We're each making artwork that is inspired by history, from ancient Egypt to Ohio settlers and personal history.
The show opens Friday, March 10th, from 5-8pm. Come see it! We'll have munchies and will be talking about the stories that inspired our work.
The show continues through April 29.
My art over the years has been inspired by memory and personal experiences, so I will have several pieces in the exhibit that you've seen before. In addition, I am making some new pieces inspired by family memories.
I have a small collage with a little girl that I found in a scrapbook from the 1880s (see above). She reminds me of my grandmother – of course, my grandmother wasn't born then, but something in her pose and gaze makes me think of her.
I've also made a collage based on a Tree of Life quilt that my mother made about 30 years ago. Mom loved to quilt, so it seemed like making something based on quilting would be a nice way to remember her.
Dana has been busy making jewelry influenced by ancient Egypt and her travels to Scotland, while Shannon has been creating a new series of paintings based around a little girl named Lydia.
We'll also have a display about our building, which was built in 1833 by Owen Brown, and has been home to many residents and businesses throughout its long life.
This exhibit is part of the Women's History Month gallery tour that runs through March.