Tiny Homes For The Holidays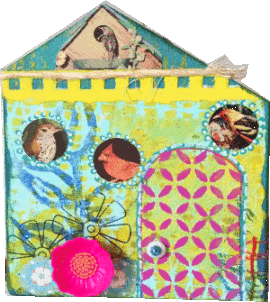 Have you been following the tiny house trend? They're popping up everywhere! You can't turn on TV without catching a show about them or a news program doing a tour of one. They're just so darn cute, aren't they?
So, you know us artists. We had to do our own take on them.
But…ours are different. We've used wood and silver, buttons and bead, paint and paper, string and stamps to make tiny mixed-media houses.
My little birdhouse is pictured here. Some of the others are hotels, castles, green houses, igloos, vintage homes, and others that defy titles. They are wonky little charmers, full of character.
You have to come see them. Seriously.
Come meet the artists on Nov. 18, 5-8pm. The houses will remain on display from November 18 – December 17.
Houses built by: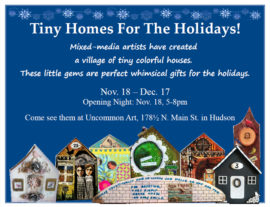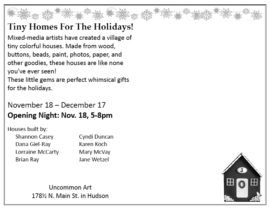 All content © 2018 by Life Needs Art by Karen Koch
178 1/2 N. Main St., Hudson, OH 44236
You're welcome to use the images on this site, under certain conditions. Please view the Terms of Use.
Website created by Crystal Pirri using the On Assignment theme.