Autumn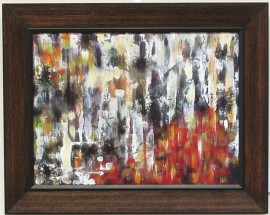 "Autumn" began with an image that I just couldn't get out of my head – a red shape on a dark purple or gray background, with streaks of light. It was a vague image, but it persistently hovered around the edges of my mind's eye for several days.
I painted a small version first, about 4×6 inches, and that helped clarify what I was thinking.
Then, I did a 12×12 inch version on paper. That one is now completed as a finished painting, but is very different than this version.
Then, this 3rd (perhaps final?) version is 12×16 inches on canvas. I have to admit, this one was very satisfying: it was enjoyable to paint, the colors are just right, and I'm happy with how it looks.