Foggy Bridge 2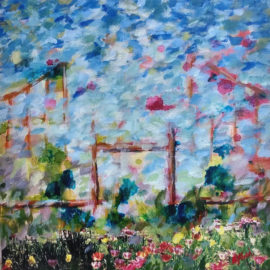 I thoroughly enjoyed painting the first Foggy Bridge painting, and wanted to explore the subject further.
This version is lighter and brighter. The collaged paper along the bottom edge has cheerful tulips. The bridge is less distinct than in the first painting, making this more about the colors than the structure.
Yes, I know these don't look like bridges that you could drive across in a car. And that's ok. I'm going more for the mysterious feeling of a structure obscured.
Title: Foggy Bridge 2
Size: 12 x 12 inches on canvas
Medium: Acrylic paint and paper
For more about the Portal Series, visit An Exploration of Portals, April 1-May 28, 2014