Letters Unsent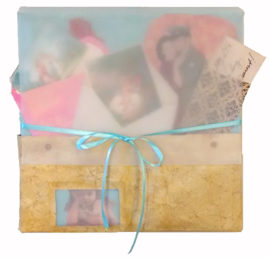 I had the idea for "Letters Unsent" before "Packaged Moments", but completed it afterward. I needed to work through the thoughts about those other moments before I could take on this.
I wanted this piece to explore the emotions of looking back on life and reminiscing about the thoughts not said, the missed opportunities: the letters unsent.
This piece has a wistful feel – not sad or heartbroken – but full of memories.
This one provides a nice contrast to "Packaged Moments" as we think about the things we have said and revealed compared to those we have let pass us by.
Title: Letters Unsent
Medium: Collage with vintage images, found paper, handmade envelopes, ribbon, brads, Mylar
Size: 12 x 12 inches on canvas
Signed: Yes, on the back
Exhibits: "Delivering Stories" at the BOX Gallery, Akron; "In The Pink" at Hudson Fine Art & Framing