Memories 2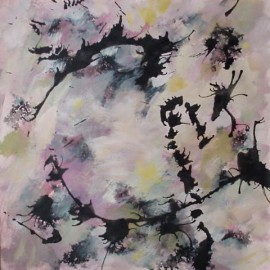 Soft passages of pink and beige, with drizzles of black ink.  Dreamy but not too sweet.
I love the spots where the ink "bloomed" into organic almost flower-like shapes. See the bit along the left edge, almost halfway down. Or some of the areas along the bottom edge.
Reminds me of hydrangea? Hyacinth? Or something else. What do you think?
12 x 12 inches, acrylic paint and ink on paper.
Mounted on 1-1/2 inch deep gallery wrapped canvas.


All content © 2017 by Life Needs Art by Karen Koch
178 1/2 N. Main St., Hudson, OH 44236
You're welcome to use the images on this site, under certain conditions. Please view the Terms of Use.
Website created by Crystal Pirri using the On Assignment theme.