Roots and Roads #3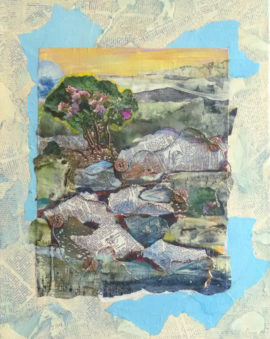 "Roots and Roads #3" picks up on cues from the first in this series. A little less realistic than #2, with added yarn – and even buttons!
A tree, along a rocky path, stands along save for bits of scrubby grasses. Buttons and yarn mark the path along with strewn flower petals.
I love the meandering path, which, for me, creates a sense of expectation or anticipation.
Title: Roots and Roads #3
Size: 14 x 11 inches mounted on 20 x 16 canvas
Medium: Collage with book pages, printed images, altered papers, buttons, thread, acrylic paint
Signed: On the back