Spring Summer Autumn Winter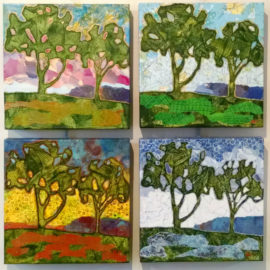 "Spring Summer Autumn Winter" is a 4-part collage (quadriptych) that shows the same tree scene as imagined across the four seasons.
The trees were inspired by a recent boating trip along the Canal du Midi in France. Here's a photo that I took during the trip and used for inspiration: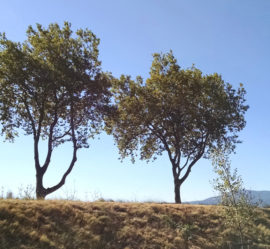 I found the shapes of the trees silhouetted against the sky to be fascinating. Although I only saw the trees in early fall, as I created the first piece, I had to wonder what might they look like in different color schemes, which began to resemble the seasons.
As an added bit of interest, the green paper that forms the tree shapes is made of pages from a French art history book about Picasso that I picked up along the trip! I find it amusing to use those pages in a collage, since Picasso helped popularize collage in art in the early 20th century.
Each piece is 12 inches square. I like displaying them in a square, as shown, though they look nice all in a row, too.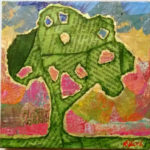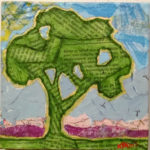 Once I was done with these four, I had to try a few more in smaller size, only 6 inches square. Just for fun, you know!
They are available in my Etsy shop:
https://www.etsy.com/shop/lifeneedsart?ref=hdr_shop_menu&section_id=14552472
Title: Spring Summer Autumn Winter
Size: 12 x 12 inches (each) on gallery-wrapped canvas
Medium: Collage with various papers and acrylic paint
Signed: front and back