The Dunes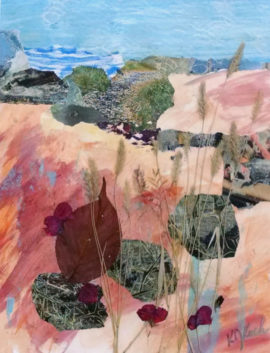 "The Dunes" was an enjoyable collage to put together. Rather than raiding only my stash of papers and yarn, I took a walk outsisde and picked up plant materials (grasses, leaves, petals) that I included in the artwork.
I need to do that more often; I love the look that the natural elements bring to the image. For other examples, see "Gingko Chicken" and "Spring Omen".
So is it an exact place? No, it's meant to just suggest seashore, dunes, beach grasses, rocks. I was going for a sunny, breezy feel that could be anywhere along a coastline.
This one was fortunate enough to be included in the Group Ten Gallery Regional Juried Exhibit.
Title: The Dunes
Size: 14 x 11 inches on paper
Medium: Collage with acrylic paint, leaves and grasses, found papers
Signed: Yes, on the front
Exhibits: "Regional Juried Exhibit" at Group Ten Gallery