The Surprise Inside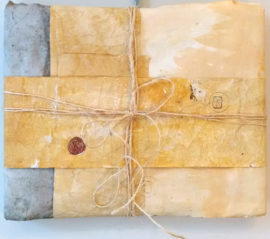 Ok, even artists like to have some fun once in a while! This piece does actually have a completed collage inside. What is it? Not telling!
I wanted to convey the sense of anticipation and excitement of finding an unwrapped package. What's inside? Who is it from? Is it for me?
You'll notice bits of goodies showing around the edges. But no fair peeking inside!
Title: The Surprise Inside
Medium: Collage on canvas with painted papers, twine, wax seal
Size: 12 x 16 inches
Signed: Yes, on the back
Exhibits: "Delivering Stories" at the BOX Gallery, Akron; "In The Pink" at Hudson Fine Art & Framing


All content © 2017 by Life Needs Art by Karen Koch
178 1/2 N. Main St., Hudson, OH 44236
You're welcome to use the images on this site, under certain conditions. Please view the Terms of Use.
Website created by Crystal Pirri using the On Assignment theme.