Time of Waiting 2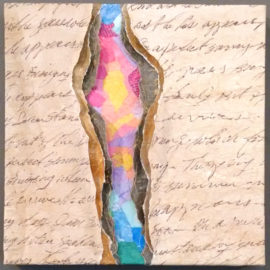 Time of Waiting 2 was actually created before the larger version and was the inspiration for it.
This smaller version really has the feel of expectation while waiting for the contents to be revealed. The interior is glowing with such energy, just ready to burst through.
And so much luscious texture! Each layer is stitched individually; you can see some of the loose threads in the center.
On the wrapper, the writing is not made of actual words. It's a type of mark making called "asemic writing", meaning marks that resemble letters but are not.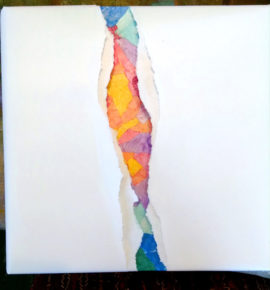 Here's a photo taken while I was testing out shapes for the wrappers:
Title: Time of Waiting 2
Medium: Collage with painted and handwritten papers, thread
Size: 12 x 12 inches on canvas
Signed: Yes, on the back
Exhibits: "Delivering Stories" at the BOX Gallery, Akron; "In The Pink" at Hudson Fine Art & Framing