Too Much To Contain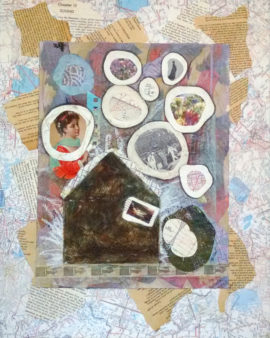 "Too Much To Contain" again looks at what happens when the envelope is too full and the contents are released.
I love the mix of modern and vintage bits here: you'll see graphs from a 1950s physics book, vintage elements from the 1880s, mixed with modern snapshots and maps. It's a wonderful, complex mix of items.
The envelope is made from a piece of paper that I painted, along with a vintage stamp. An odd view of it from the side is below, taken while I was holding a mat on it to check the progress.
Title: Too Much To Contain, Envelop/e Series
Size: 14 x 11 inches on paper, mounted on 20 x 16 inch canvas
Medium: Found and vintage papers, maps, book pages, stamp, tissue, oil pastels and pencils
Signed: On the back
Exhibits: 2016 Kaleidescope Juried Exhibit at Summit Artspace; "Delivering Stories" at the BOX Gallery, Akron; "In The Pink" at Hudson Fine Art & Framing