Tree of Life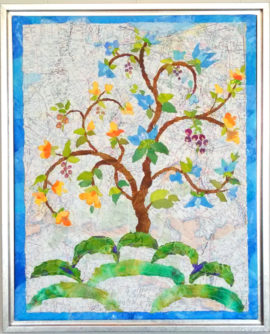 For our "Threads of the Past" show, I made several pieces of artwork, including this one, inspired by family.
My mom loved to quilt, and made many during her lifetime. This Tree Of Life quilt was one of her first. She made it in 1990 and it's one I have always loved. I used it as inspiration for a collage to honor her. The quilt is pictured below.
She made her quilt all by hand – all the piecing, the embroidery, the top quilting, the edging – everything. It's really quite special.
My piece is made from papers that I painted in the colors I needed. The background is an Ohio map. You'll see Cincinnati in the lower left, which is where Mom grew up. And Northeast Ohio is in the upper right, which is where we lived as I was growing up. I topstitched (by machine, sorry Mom!) the collage with white thread to mimic the look of a quilt.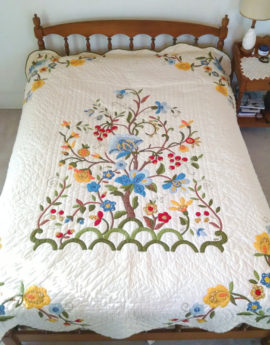 When I was happy with the collage and stitching, I attached it to a canvas covered in blue paper for the edging.
Below are some photos of it in progress. You can click on them to see larger versions.
Title: Tree of Life
Size: 20 x 16 on canvas
Medium: Collage with maps, painted paper, thread
Signed: on the back