Two Imaginary Landscapes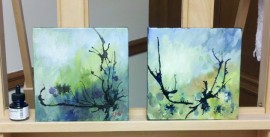 I've had the urge to paint landscapes lately. Why? I have no idea. I've never painted landscapes, not really. My paintings are often inspired by nature – by the colors, flowers, change of seasons – but not usually by landscapes per se.
Still, the notion to try landscape-y type paintings has been nudging me, so here goes.
These are two small paintings, 8×8 inches, on canvas. I tried to give the illusion of depth, of hillsides and trees off in the distance.
Frankly, I'm happy with them. I think they're successful paintings and they make me smile every time I look at them. Hope you enjoy them. Larger images are below.