Waterfall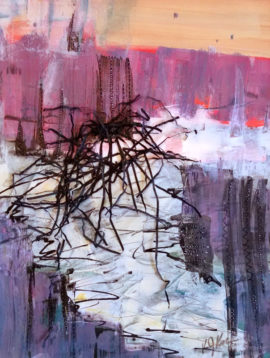 "Waterfall" began, as so many of my abstract paintings do, with quick and instinctive swatches of paint on paper. Quick and energetic, applied in an intuitive, physical way.
Love that stuff.
After the paint was dry, I enhanced the paint with some machine stitching to draw attention to it and add texture, then added the puff of shredded black paper.
Simple and satisfying. What more can you want?
Title: Waterfall
Size: 14 x 11 inches on paper
Medium: Collage with acrylic paint, thread, shredded paper
Signed: Yes
Exhibits: Epiphany Arts Festival