52 Weeks 52 Works Calendar
If you're still looking for the perfect calendar for 2014, allow me to recommend the "52 Weeks 52 Works" desk calendar published by Academy Graphic Communication, Inc.
The full-color desk calendar features artwork by Northeast Ohio artists.
Each week has an artwork on one page then the days of the week on the opposite page with plenty of room to write.
You'll see plenty of familiar artists as you flip through the book – including me! My painting, "Memories of Geneva (Over the Lake)" is the image for Week 23, the first week of June.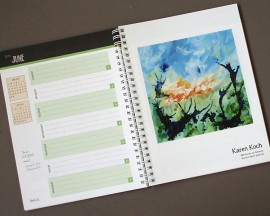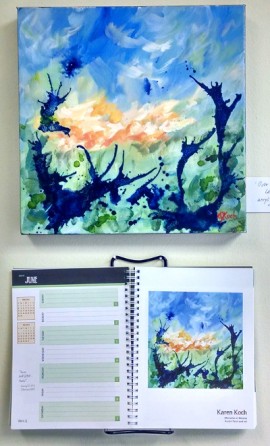 I"m tickled to have my painting included in the calendar this year.
Just call me a Calendar Girl! 😉
This is the 12th year for the calendar. More info is on the AGC website at http://www.visitagc.com/52weeks52works.php
To pick up a calendar, contact Academy Graphic Communication, 1000 Brookpark Rd., Cleveland, OH 44109 or by phone at 216-661-2550.
They are open Monday – Friday, 8 AM – 4:30 PM.
My painting, shown with the calendar at right, has already sold.