from WOMAN X, a celebration of Women's History Month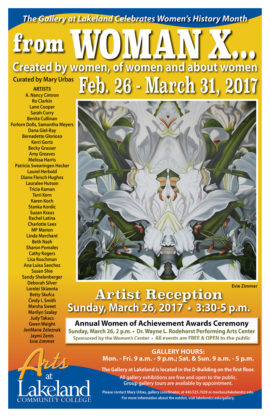 I am honored to have been invited to participate in an exhibit at Lakeland Community College called "from WOMAN X … Created by women, of women and about women".
The exhibit includes artwork in a variety of media from 44 women artists from Northeast and Central Ohio, Arizona and Indiana. Part of a celebration of Women's History Month, the exhibit has been curated by Mary Urbas, along with a month-long series of other exhibits and events.
The exhibit at Lakeland runs February 26 – March 31, 2017. The closing reception is Sunday, March 26, 2017, 3:30-5 pm along with the Women of Achievement Awards that begin at 2pm.
Lakeland Community College is located at 7700 Clocktower Drive, Kirtland, Ohio 44094. Gallery hours are Mon-Fri 9am-9pm, Sat-Sun 9am-5pm.
For more details, visit http://lakelandcc.edu/gallery or https://www.facebook.com/events/737316676432078/
My two entries are both from my Envelope series: