Distant Memories 2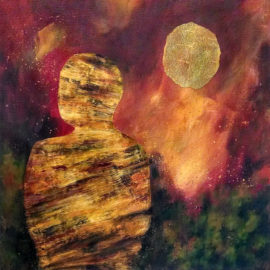 "Distant Memories 2" continues exploring that moment of transition between being present and being lost in memories.
It is part of my Portal series.
The design is simpler than Distant Memories 1, yet it has more complexity as well.
I designed it with only one figure, the large one on the left. Yet the more I look at it, the more figures I see. Just hints of figures. I didn't include them intentionally, but there they are. I like that suggestion of figures, sort of like a memory that hasn't yet come into focus.
Title: Distant Memories 2
Size: 24 x 24 inches on canvas
Medium: Collage, with acrylic paint, painted paper, and vintage book page.
For more about my Portals series, visit: An Exploration of Portals, April 1-May 28, 2014