Frosty Window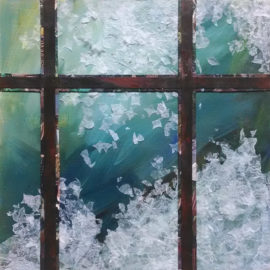 Frosty Window, part of my Portals series, was inspired by that crazy polar vortex weather we've had the past couple of winters. Awful cold, miserable stuff – but also beautiful.
The frost patterns on my windows were really pretty. Tiny delicate crystals dancing across the panes.
So this piece takes a more literal view of portals by depicting a window. Yet windows are a great portal – a transition between inside and out.
Title: Frosty Window
Size: 12 x 12 inches on canvas
Medium: Collage, with acrylic paint and various papers
For more about my Portals series, visit An Exploration of Portals, April 1-May 28, 2014