Lifelong Buddies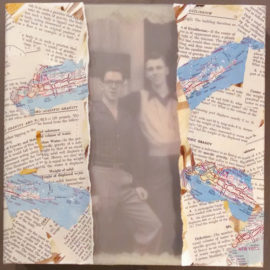 Another piece for the Threads of the Past exhibit, "Lifelong Buddies" shows a photo of my dad and his college friend.
My dad went to a very small college. Very small – his graduating class had fewer than 2 dozen people. He and his classmates formed close friendships that lasted rest of their lives. I have always admired the strength of those friendships and how young college boys remained friends through all the changes life threw at them: jobs, marriages, relocations, military service, and illnesses.
This piece honors them and their friendships.
The overlay that wraps around from the left and right edges is made with pieces of maps of Long Island, New York, which is where they went to school; and also pages from a 1950s physics book explaining how to calculate the specific gravity of water, because that's a subject they would have studied.
In the center is a narrow piece of mylar, which is semi-transparent. Because it sits away from the photo slightly, the photo appears a little bit fuzzy.
Click the photo for a larger version.
Title: Lifelong Buddies
Medium: Collage with photo, maps, book pages, mylar, thread
Size: 10×10 inches
Signed: on the back
Exhibits: "Threads of the Past" at Uncommon Art; "Delivering Stories" at the BOX Gallery, Akron; "In The Pink" at Hudson Fine Art & Framing