Roots and Roads #2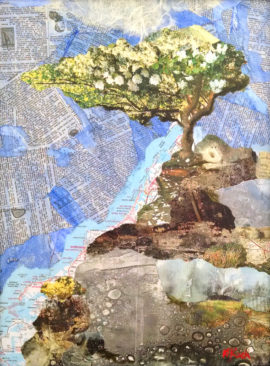 "Roots and Roads #2" is a continuation of a series of artwork that explores roots (where do we come from) and roads (where are we going).
Inspired by the idea that we need to be grounded in our past helps us grow toward our future, I made "Roots and Roads #2" from old book pages, maps, and printed images. No thread or yarn in this one; it didn't need it.
Again, a solitary tree sits high up, solidly grounded, and watchful. It feels as if it's been there a long time, and will continue to stay there. I love those old gnarled trees that attach themselves to the most unlikely places, and stay and grow and thrive, even when it looks like they shouldn't.
To see the first piece in this series, visit Roots and Roads #1, a collage.
Title: Roots and Roads #2
Size: 16 x 12 inches on canvas
Medium: Collage with book pages, maps, printed images, acrylic paint
Signed: Yes, front