Illumination Night, December 12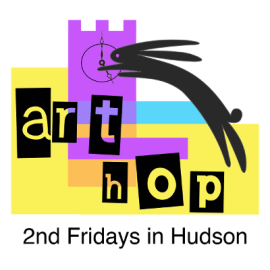 Ah, the final 2nd Friday Art Hop of this year! And what a year it's been. Seems hard to believe that a casual conversation over coffee has turned into a city-wide…thing.
And, yet, here we are. Going on our 7th Art Hop, upwards of 15 participating locations each month, and more visitors each month. Events like this take a while to catch on, but we're growing. It's so exciting to be part of the brainstorming – planning – making things happen group.
This December Art Hop is special. We're calling it Illumination Night, and are celebrating the holidays with lights, stars, luminaries, and all things bright and sparkly.
Please join us on December 12th from 5-8pm. Come, regardless of the weather and the cold. We will have lights aplenty to help you find your way around, and the good cheer will keep you warm when you get here.
Along with the holiday festivities, we are taking donations to help the Hudson Community Service Association food pantry. They help residents in need; let's help them. Look for the donation boxes and stars in the studios and galleries.
Get the latest info on locations at the art hop website: http://www.hudsonarthop.com