Thickets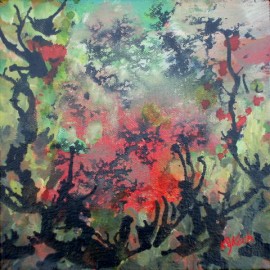 "Thickets", 8×8 inches, acrylic paint and ink on canvas.
I've struggled with naming this painting for a while, because it evokes so many thoughts for me. I look at it one day and it reminds me of an underwater scene, maybe a reef. Or sometimes it looks like a campfire, just as the kindling begins to catch. Lichens? Yes, maybe that too.
But I've settled on "Thickets". It has that feel of dense underbrush that snag your pant legs and rub your elbows as you make your way through. You can see only little glimpses of what's up ahead.
So there you have it.


All content © 2017 by Life Needs Art by Karen Koch
178 1/2 N. Main St., Hudson, OH 44236
You're welcome to use the images on this site, under certain conditions. Please view the Terms of Use.
Website created by Crystal Pirri using the On Assignment theme.