National Collage Society 17th Annual Postcard Show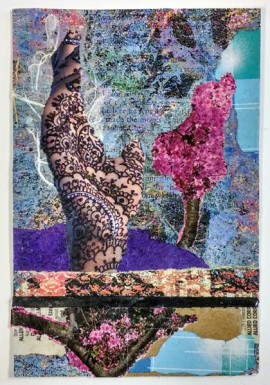 The National Collage Society's annual Postcard Show is being held online this year to give everyone the opportunity to view the exhibit. The artwork is all collage (containing elements that are glued on) and all postcard-sized: 4×6 inches.
Exhibit Dates: June 2 – December 31, 2014
You can view the show at this link:
http://www.nationalcollage.com/2014postcardshow/show.html
My entry, "As She Grows", is pictured to the right. In the show, it's about "halfway" down the page, more or less.Click the image here or on the Postcard Show page to see a larger image.
The collage is made of acrylic paint, pages from a phone book and vintage poetry book, origami paper, tissue paper, and some printed images.